You Have the Potential to Create the Life You Desire!
As a Licensed Professional Counselor (LPC) & Personal and Executive Coach in Montclair, NJ, I believe that everyone already has the potential inside of themselves in order to create the life that they desire. Through my blend of services which includes therapy, coaching, workshops, and events, I'll assist you in tapping into that potential so that you can live a happy and fulfilling life.
WHICH OPTION IS BEST FOR YOU?
 

---
From the Blog
5 Signs That You May Need Therapy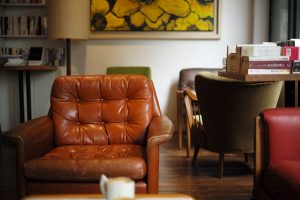 Contrary to popular belief, therapy is not for the "crazed and deranged" and you don't necessarily have to carry a diagnosis. It's about wanting more for your life. Challenges come, life gets tough, and bouncing back can be difficult. Conversely, not every problem requires that you sprint to a therapist ASAP. So how do you REALLY know when therapy is an option that you need to consider?
You are no longer enjoying life. You are battling feelings of disconnect and the things that you used to enjoy are no longer enjoyable to you. I'm not referring to a change in hobbies or likes/dislikes. I'm referring to an inability to feel pleasure in doing those things that used to bring you a sense of joy. When you can no longer pinpoint anything that excites or stirs up "life" inside of you, then it's time to talk.
You've experienced a loss and you find that the feelings are paralyzing. It's not uncommon for grief to disrupt your functioning. The feelings can be so intensely emotional and/or physical that you find them challenging to address or overcome. Keep in mind that loss doesn't only come in the form of death. It can be the loss of a relationship, pet, job, identity, physical capabilities, health, freedom, etc.
Love From My Coaching Clients
I consider Erika to be a generous, empathetic motivator and encourager. I recommend her as a coach because she is positive, results oriented and ensures that her time with her clients are focused without wasting any time and ensuring that communication and objectives are clear and met. When I began my coaching sessions as a client of Mrs. Kendrick, I was in a pretty desperate financial and emotional state and my career was at a stand still. I also felt powerless due to my living situation.
NICOLE LAWSON MILES OF N. LAWSON & ASSOCIATES
---